Tumia Handmade Tiles
Tumia Talavera Tiles are handmade and screen printed in Mexico. They have a long tradition dating back to the 16th/17th when Mexico was under colonial rule. The Spanish came to Mexico and shared their knowledge of pottery and tile making and the tradition has been kept alive, using remarkably similar techniques to this day. Talavera de la Reina, a Spanish village not far from Madrid renowned for its ceramic crafts lends its name to the Talavera tiles.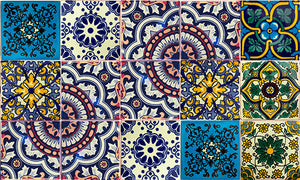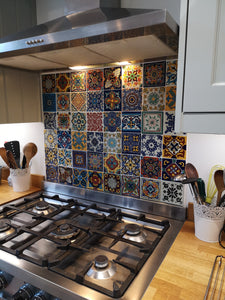 Our tiles are suitable for a variety of situations:
Kitchen and bathroom back splashes. Light duty counter/table tops. Stair risers and hallways.
They can be used in "semi wet" situations (eg. splash backs) but not in "fully wet" conditions (eg. inside a shower). They are not suited to use as floor tiles. They are not perfectly suited to outside use as the glaze does crack from freeze/thaw conditions. If you can live with this, they can be used outside. We can't guarantee any heat resistant properties.
As each individual tile is handmade, minor differences can be found between each one and tile size might be different by a few mm. 
Number of tiles per square metre
5cm x 5cm Tiles - Based on a 3mm grout and a 10% margin for cutting and future repairs, we recommend 392 tiles.
10.5cm x 10.cm Tiles - Based on a 3mm grout and a 10% margin for cutting and future repairs, we recommend 95 tiles.
Tumia LAC (formally known as Tumi) was founded in the UK in 1978 promoting fair trade crafts and goods from Latin America. We've worked with our craftsmen in Mexico for many years and ensure that we pay fair wages (set by our partners), provide good working conditions and look to provide a sustainable future for our workers.
We have worked with our producers in Mexico for over 30 years. We take every step we can to ensure that our Talavera tiles are produced in accordance with the fair trade principles of the British Association of Fair Trade Suppliers (of which we are a recognised Supplier Member).
DE - Tumia Handgemachte Fliesen
IT - Mattonelle fatte a mano Tumia
ES - Azulejos Hechos a Mano Tumia